We aim to positively impact the environment wherever we operate and advance sustainability across our supply chains, from producer to end use customer.
Why this matters
As the global population grows there is a rising demand for food, feed and renewable fuels. An increase in production puts pressure on the environment through agricultural expansion and consumption of precious natural resources.
As one of the world's leading agriculture networks, we play an important role in global commodity markets to meet this demand without affecting future generations
Our approach
We work to improve our environmental performance year on year, positively impact our external environment and communities where we operate, those we source from and those where we supply our commodities. We collaborate with producers, industry peers and other stakeholders to find collective and inclusive solutions.
We support both the global United Nations Sustainable Development Goals (UNSDGs) and the Paris Agreement climate targets and believe they can be achieved by working together through partnerships.
Our approach to environmental stewardship is based on understanding the potential impacts of our operations and supply chain on the environment. In accordance with our health, safety, environment and community (HSEC) policy, we manage our impacts, maintain compliance as a minimum, and improve our environmental performance through our environmental improvement planning framework.
Why this matters
We understand the impact climate change can have on our sector – from changing weather patterns to shifts in growing seasons and yields, increased regulation, transition in technology and societal expectations.
Our approach
To guide us on our pathway to decarbonisation, we have announced our ambition to become carbon net zero by 2050 for scope 1 and 2 emissions and set a medium-term emission reduction target. We are also working towards measuring our scope 3 emissions, in preparation for setting a target in 2024.
We want to be part of the solution to help tackle climate change. Some of the ways we are doing this are through:
supply of feedstocks and renewable fuels, we facilitate our customers in transitioning towards lower carbon energy mixes
our deforestation-free sourcing approach we are contributing to preserving biodiversity and limiting emissions from land use change
working together with our producers to support sustainable agriculture and deliver low carbon commodities
collaborating with peers and partners to accelerate action towards a 1.5°C climate pathway.
Emission reduction target and decarbonisation roadmap

Around a quarter of the world's GHG emissions are attributed to food production, and we know the agriculture sector has a responsibility to be part of the solution to climate change. Collaboration and partnerships within the sector are critical to accelerating climate action.
We have an ambition to become carbon net zero by 2050 for scope 1 and 2 emissions, helping our progress towards improving the long-term sustainability of our own operations.
These are the GHG emissions from fuels we use in our assets (scope 1) and the emissions related to the steam and electricity we purchase (scope 2). Viterra is already a significant user of renewable energy sources, accounting for around half of the energy we use.
Using 2022 data as the baseline, we have set a 25% intensity-based scope 1 and 2 reduction target, by 2032. This 10-year target has been informed by technical analysis to align with a well below 2ºC pathway.
Our emission reductions opportunity portfolio and trajectory were independently reviewed across our five decarbonisation pillars:
Source renewables: invest in green energy sourcing, assets and storage
Drive efficiency programmes: optimise operations and energy use
Evolve logistics: adapt to low carbon logistics
Develop agri-based solutions: pursue bio-based green energy and low carbon fuels
Reduce and remove carbon with technology and innovation: explore and develop new energy and low carbon solutions
We are progressing our Scope 3 emission measurement programme and actively working with customers, suppliers, researchers and industry bodies to progress sustainable agriculture opportunities.
Sustainable shipping
We have our own vessel chartering operations for the seaborne transportation of a wide range of dry bulk commodities. Our chartering network covers the globe, visiting 340 ports across 68 countries.
Viterra is a signatory of the Sea Cargo Charter (SCC) which provides a global framework to promote consistent decarbonisation measurement in international shipping. All signatories' data is published annually by the Secretariat of the SCC.
Sea Cargo Charter Annual Disclosure Report 2023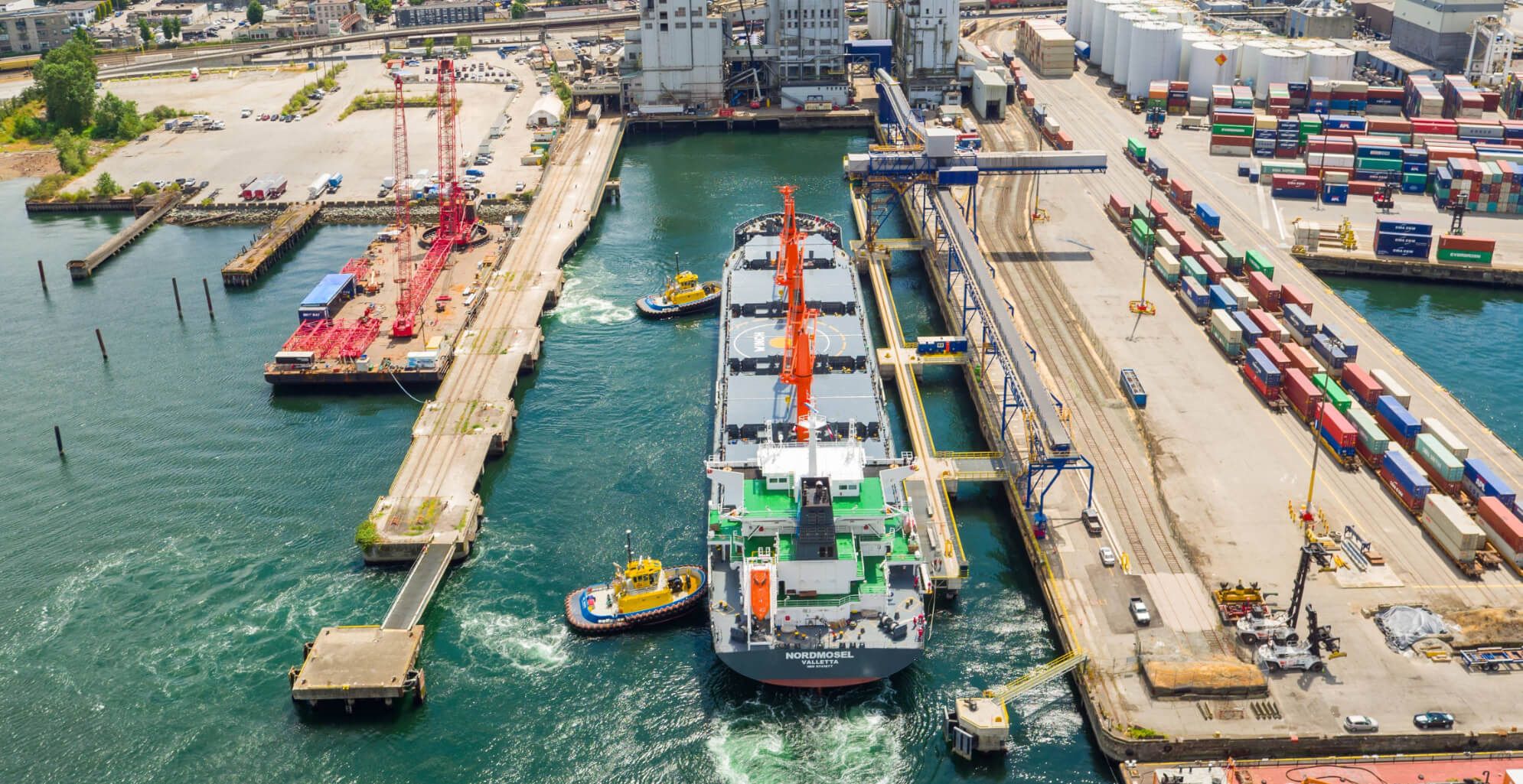 Why this matters
Responsible sourcing and traceability is central to monitoring the sustainability of our supply chains and enabling us to deliver quality-controlled, sustainable products to our customers.
Our approach
We aim to source only from responsible producers and are improving the transparency and traceability of our supply chains. We bring together producers, transport providers, suppliers and customers, and use this network to drive changes in the industry so we can meet the increasing demand for sustainable products from customers without affecting future generations.
We take a risk-based approach when sourcing commodities from regions that may have a higher risk of unsustainable practices.
We incorporate sustainable best practice wherever possible along the supply chain to protect our communities and vulnerable areas from environmental harm.
We use a stringent know your counterparty framework to screen suppliers and through our supplier code of conduct, we set expectations that require our suppliers to align with our standards, values, code of conduct and policies.
We are committed to ending deforestation, preserving biodiversity and reducing our reliance on scarce and limited resources, as well as meeting increasing government regulation and traceability requirements.
Agriculture is recognised as a significant contributor to GHG emissions and deforestation is a major cause of our sector's scope 3 emissions. We have pledged to end deforestation and conversion for soy from South America and palm oil globally by the end of 2025.
Soy sustainability policy for South America
We are a signatory the Agriculture Sector Roadmap to 1.5°C to reduce emissions from land-use change which was launched at COP27 in Egypt in November 2022. The roadmap will build on ongoing work and existing industry-wide commitments to reduce emissions from land-use change whilst protecting global food systems and producer livelihoods.
As part of the roadmap commitment, we have published timebound implementation plans for both soy and palm oil.
Sustainable sourcing implementation plan – soy
Sustainable sourcing implementation plan – palm oil
To strengthen our traceability capabilities throughout our network, our core business strategies focus on:
Increasing direct origination: creating direct, effective partnerships with producers enables us to improve the traceability of our supply chain, and means we can deliver the quality-controlled, sustainable products that our customers require.
Digitalisation: investment in technology to support responsible sourcing and improve efficiencies.
To support our responsible sourcing programme, we regularly procure certified products to meet specific customer needs and provide verification of sustainability credentials.
Soy
We source soybeans from Brazil, Argentina, Paraguay, Uruguay and Bolivia and supply both soybeans and soy derivatives to end-users around the world. We operate supply chains predominantly within Brazil and Argentina and have soy processing facilities in both countries.
Viterra works with both producers and our consumers to ensure that increasing global demand is not met at a cost to the environment.
As a significant participant in South American soy value chains, we are well positioned to influence positive change with respect to deforestation and conversion of natural ecosystems in high-risk and low-risk soy sourcing areas.
Our sustainable sourcing plan for soy applies to all the soy we source in South America, both directly and indirectly. We have committed to achieve the target of deforestation and conversion-free soy supply chains in South America by the end of 2025.
As a member of the Round Table on Responsible Soy (RTRS), we are part of a joint effort to increase production of soy while reducing environmental harm.
We are a long-term participant in the Amazon Soy Moratorium. We do not source soybeans from lands deforested after 2008 in the Amazon Biome or from producers who are not compliant with other socio-environmental requirements across Brazil. Since the start of the Amazon Soy Moratorium in 2006, deforestation in the Amazon due to soy production has significantly reduced. We continue to work with the industry, producers, governments and many other interested parties to bring solutions to the sector in order to fully eliminate deforestation from our supply chains.
Soy sustainability policy for South America
Sustainable sourcing implementation plan – soy
Palm
The palm sector is considered high-risk for deforestation and much work has been undertaken within the sector to address the environmental impacts of palm oil production. We have committed to achieve no deforestation and no peat palm oil supply chains by 2025.
We do not own any plantations, ports or crush facilities along the supply chain, but we aim to influence sustainability through our sourcing approach.
We have been a member of the Roundtable on Sustainable Palm Oil (RSPO) for more than 10 years.
Our sourcing approach has a focus on:
no deforestation, no peatland development, no exploitation of workers and communities (NDPE) and fair work conditions along the supply chain. We aim to procure from suppliers that publicly commit to NDPE principles and have processes established to meet their commitments; and
purchasing palm from suppliers that are RSPO members.
Read our palm mills list.
Sustainable sourcing implementation plan – palm oil
Cotton
Cotton agriculture presents both labour and environmental challenges. Due to the nature of the cotton supply chain, with a large proportion of small-scale producers in developing countries, we have limited visibility of production practices.
To address these challenges, we purchase BCI and CmiA certified cotton volumes globally, to promote sustainable practices. We are a member of the Better Cotton Initiative which aims to make global cotton production better for the people who grow it, for the land it grows on and for the sector's future. It trains producers in sustainable practices to reduce the amount of fertiliser, pesticides and water they use. Our goal is to increase the volume of sustainably produced cotton in our supply chains.
Sustainable biofuels
We are among the leading suppliers of sustainable biofuels. We produce biodiesel from rapeseed in Europe and from soybean oil and bioethanol (from sugarcane) in South America which all have International Sustainability and Carbon Certification. We also monitor our infrastructure and supply chains closely to ensure they incorporate the latest sustainable best practice.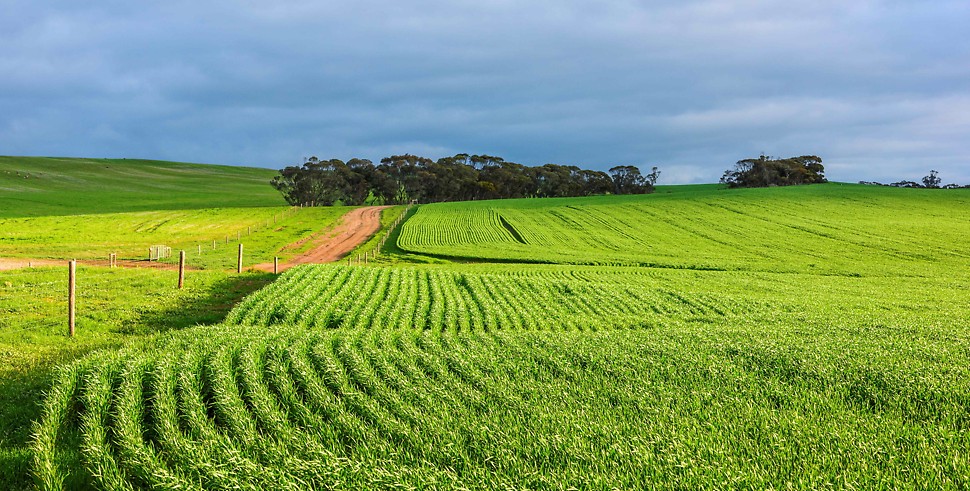 Why this matters
The availability of natural resources is critical for the agribusiness sector. We recognise that responsible use of resources is not only good for the environment, but also good for business, as it reduces costs and improves productivity.
Our approach
Water
We aim to minimise the impact of our activities on water availability and quality and to protect waterways and reservoirs.
We have implemented a global water intensity reduction target since 2020, and each of our regions implement water efficiency initiatives to contribute to this goal. Planning and progress on these initiatives is monitored through our environment improvement planning framework.
Our water-related activities are regulated by relevant legislation in each jurisdiction and management plans are implemented at asset level. None of our facilities operate in high water scarce areas, as indicated by the World Resource Institute's Aqueduct platform.
Waste circularity
Viterra's operations are not a major creator of waste. As we operate a bulk commodity network, we use limited packaging and we maximise circularity, meaning that where possible we repurpose our waste either to energy, animal feed or soil conditioner. Our business model aims to prevent waste in our primary product streams and we are constantly looking for new external and internal purposes for residues and by-products of our crop processing and storage and handling activities.
Guided by our food and feed safety processes, superfluous or downgraded agricultural products which may originally have been intended for food purposes, may be requalified as feed.
You might also be interested in